United Lent Appeal
The College of Bishops has launched a Lent Appeal to raise funds for the Scottish Episcopal Institute, the new body that is the successor to the troubled Theological Institute of the Scottish Episcopal Church. The Lent Appeal is to raise funds to enable full-time training for younger ordinands.
The following prayer has been published by the bishops to go along with the appeal:
Almighty God, giver of all good things,
you showed your love for us by giving us your only Son:
help us to show our love for you.
Grant us this Lent
the vision to see where you are at work in the world,
the courage to join in that mission
and the desire to give
in support of those seeking to train
within the Scottish Episcopal Institute.
In the power of the Spirit
we make our prayer
through Jesus Christ
our Lord.
There are no details yet as to how full-time ordinands will be funded for in subsequent years if this appeal is successful.
Visit of the Bishop of Zanzibar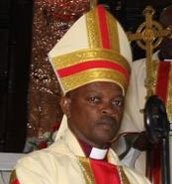 The Bishop of Zanzibar, the Rt Rev Michael Hafisd has been visiting the Diocese of Argyll and The Isles. Details of his visit are available on the diocesan website. There are more detailed reports and pictures in the Diocesan Newsletter.
New Diocesan Council in Brechin
The Diocese of Brechin is to consider proposals to establish a new Diocesan Council which would replace their current Administration Board and Mission and Ministry Board. Full details are available in their Diocesan Synod Papers.
Lectured by the Rev Anne Dyer – forward notice
The Rev Anne Dyer is giving four lectures looking at the use of the female form to depict and carry ideals of virtue and vice in the Christian tradition. Dates – 28 May, 4 June, 18 June, 25 June. Time – 2 – 4 pm. Location – Royal Overseas League, Princes Street, Edinburgh.
Scottish Episcopal Church Provincial Youth Week
The Glenalmond week this year will be 2 August 2015 to 8 August 2015
Details here: http://www.scotland.anglican.org/wp-content/uploads/2015/02/glen15form.pdf
The Buzz
Earth Hour
This year's Earth Hour where people are asked to dim lights and use less power to highlight climate change issues takes place on 28 March 2015. Details of how churches can get involved are available from the Eco Congregation Website.
People
The Rev Canon John Lindsay retires as Rector of St Adrian's Gullane and St Baldred's, North Berwick on 1 March 2015
The Rev Chucks Iwuagu has moved from St Mary's Cathedral in Glasgow to take up a post in Haslemere near Guildford. (Farewell sermon here)
Vacancies