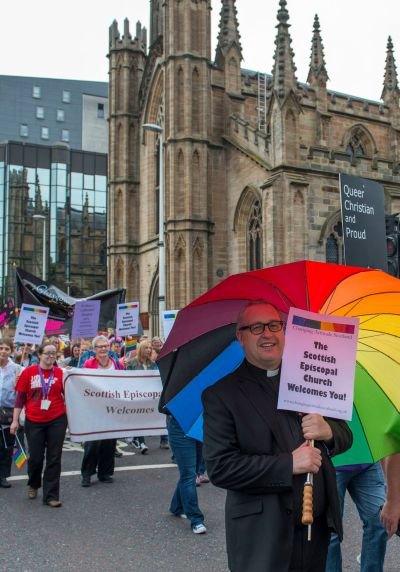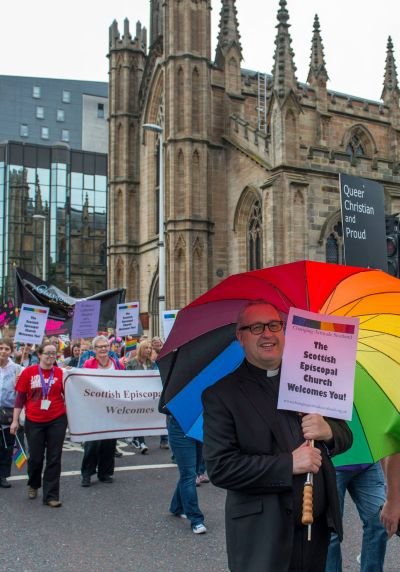 As day turns to evening on the 28 June 2019, it is difficult not to think of a couple of relatively small-scale riots that took place 50 years ago and murmur a quiet prayer of thanksgiving for the rioters. I have little doubt that there was no way they could foresee the movement which was to spring from the events that took place in and around the Stonewall Inn in New York.
Earlier this week I spent a lovely evening in the sun sitting outside the Royal Gourock Yacht Club eating a meal with friends. The sun was shining, the water was calm, boats were bobbing about and we were served good food. It could not have been further away from the rather downbeat drinking establishment that the Stonewall Inn had become all those years ago. However, as I sat eating my haddock and chips, one of the friends I was with said to me: "Do you know what I saw this week? I saw two young men walking down the street hand in hand. In Gourock! Imagine! How did that happen?"
I looked at another friend who, like me, has been on a march or two in his time and said, "Well, it didn't just happen. We made it happen".
But such is the luxury of being able to look back. No-one ever punched me in the nose, and I'd better remember that whilst thinking about what was started 50 years ago tonight.
When the denizens of the Stonewall Inn were attacked by the police they seemed initially to simply have been fighting back rather than kick-starting a movement that would reach even down the Clyde on a balmy night in June 50 years later. They were not the A-Gays or the Power Lesbians of New York either. More the young, often homeless young people who had washed up in the big city for reasons with which gay people will instinctively be familiar. They were not welcome at home and they were not welcome most other places either. Lost LGBT youth still exist in major cities. The LGBT movement started by the Stonewall event hasn't, sadly, stopped that completely.  But so very much has changed in those 50 years.
There is so much to be thankful for. For those who, when set upon by a violent police force did high kicks and mocked the authorities mercilessly. For those who organised in the middle of chaos. For those who came up with slogans. For those who tended the wounded. For those who encouraged. For those who didn't give in.
Reading first hand accounts of the riots themselves, it is difficult for me not to hear echoes of the Magnificat, the riot itself a vesper prayer of those who knew that the world in which they were oppressed, needed to be toppled over. Reading of the corrupt world in which those who were attacked, I find myself cheering them on with a belated prayer that the mighty might be brought down from their seat with all the consequent glitter of the exaltation of the humble and meek.
I celebrate and rejoice in all the activists then and since who have made this world a place where I can live in much more security than anything imaginable by the original rioters. And I am impatient for more.
Thinking about the Stonewall Riots this particular week, it is impossible not to remember explicitly trans people and the current campaigns to change the law with regard to gender recognition. This process is going to take longer in Scotland than some had hoped for and there are many people directly affected who are feeling sad, cross and bereft right now. I'm someone who is sometimes puzzled by what trans rights to fight for – I'm very conscious that I don't speak from that experience and the place of the church in those debates is very different from the discourse a few years ago over the marriage of same-sex couples. However I do see the most ghastly attacks (physical and in digital space) on trans people and recognise them as a kind of bullying and intimidation with which I am familiar.
The conversation about how to reform the Gender Recognition Act will go on and it was clear from a gathering I was at within the Scottish Parliament building earlier this week that the genderqueer people who took leading roles in fighting back against oppression 50 years ago are still inspiring people today.
The rights that have been won by the modern LGBT movement have been considerable. However, when those of us who have been active gather and talk at the moment, we often talk of the fragility we feel about those rights.
And so much of what we have is partial anyway.
I recently married a couple from Northern Ireland who were in a Civil Partnership. That meant that when they set off to come to get married they were in a Civil Partnership in Northern Ireland but at the moment I married them they became married in Scotland. Moreover, Scots Law says that at that moment, they became married from the date of their Civil Partnership. (As they travelled to come to Glasgow they were thus in one sense both married and not married simultaneously). And once they took the Easyjet flight home, as soon as they touched down they were in a part of the UK closer to here than Inverness, and all of a sudden they were no longer regarded as married in the jurisdiction in which they live.
And I became aware this week of someone in the city too frightened to come to a Pride march as they could lose their job as a teacher in a state-funded Roman Catholic school in this city if they were seen to have done so and been reported to their bishop. (It happens to be the case that none of my friends in the Roman Catholic Church would think for a moment that such behaviour helps spread the good news of Jesus Christ – they seem as scandalised by it as I am). We won't have inclusive education until such discrimination has been stopped in our local schools and it is a disgrace to the inclusive credentials of our local and Scottish governments that it hasn't been tackled already.
Such absurdities would never be tolerated by straight people. Nor should they be by us.
The fight is far from over and there are plenty of us who are eager not only to secure the rights we have won but to fight for more.
And notwithstanding the current fad for national populism, the borders of our countries will not ultimately inhibit or hold back the simple demand for equality that comes from those who don't have it yet.
The fight isn't won yet.
It won't be over until the children of Kampala and Corstorphine grow up in institutions and households where prejudice against LGBT folk is unthinkable, never mind unrepeatable.
It won't be over until lesbians can take any bus in the world without being subject to the taunts and blows of putative patriarchs.
It won't be over until absurd aspersions cast against trans people are laughed at.
It won't be over until LGBT people are no longer running from home, from school or from life itself.
It won't be over until the boys holding hands in Gourock are unremarkable.
But one day… one day it will be over.
And until then, we march and work and dance and fight and laugh and pray.
And I have no doubt, the whole company of heaven joins us.