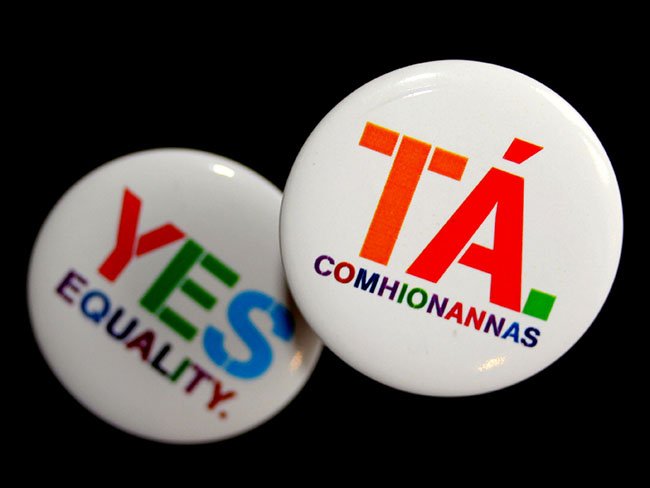 The first thing to say is congratulations to all those in Ireland who have campaigned and voted for a change in the law that will allow same-sex couples to be able to enter civil marriage.
There's something incredibly exciting about the fact that the first country to put marriage equality (or at least a step towards marriage equality) to the electorate is Ireland. Twenty years ago it would have been almost unthinkable that Ireland would ever enthusiastically embrace this change. It is clear that the influence of the Roman Catholic Church in Ireland has been changed forever by a litany of abuse cases and also by the positive changes that increasing secularisation in Western Europe has brought.
It has been nailbiting watching the referendum from this side of the Irish Sea. Particularly when one begins from a position of thinking that such a referedum should never happen in the first place. I agree with Seph who tweeted the other day –
Even if Yes wins, it is still wrong for minority rights to be put to a popular vote. #MarRef

— Sephlet of Josington (@sephistication) May 22, 2015
Seph is right. Whilst the excitement of the Irish vote has been palpable it has still meant that tens of thousands of people have had to live with a debate over whether they are really full citizens or not and walk streets in which placards and slogans opposed to their lives have been prominently displayed.
On the positive side, there have been few things on twitter more moving than the #hometovote hashtag. This referendum didn't allow postal voting and so Irish citizens from all around the world travelled back to Ireland to cast a vote for equality. That stream on twitter has moved me to tears several times in the last few days. Growing up gay in an age where the presumption was that the majority world meant you harm, it is difficult to encounter such gold-hearted goodness without having an emotional meltdown.
There's no doubt that this result will encourage those fighting for marriage to be open to same-sex couples in Northern Ireland. Fresh from the gay cake row, there's a new coalition of politicians in that province arguing publicly against things that are to the benefit of their gay citizens. They appear to be even more dinosaur like the more decisions are taken around them that point towards the goal of equality.
One notable thing worth celebrating with regards to the Irish referendum is how the Church of Ireland has conducted itself. Significantly, there was no expectation that all their bishops would say the same thing and so we were able to hear very clear statements of support from several high profile members of the church, particularly the Bishop of Cork, the Rt Rev Paul Colton and the Bishop of Cashel, Ferns & Ossory the Rt Rev Michael Burrows. The two of them deserve to be hailed as heroes.
What a contrast from the Scottish Episcopal Church where the poison of conformity has overtaken any sense of collegiality amongst our bishops.
Bishops here need to remember that the word for those who take actions (or maintain silence) leading to things that are to the detriment of their gay clergy and congregational members whilst insisting in private that they are sympathetic is not hero but something far more visceral that Jesus had a lot more to say about than homosexuality.
But let us not dwell on that – this is Ireland's day. A new Ireland too.
So many people have said that this vote represents far more to Irish citizens than just whether or not same-sex couples could marry. It re-establishes the idea in Ireland that the state is there for all Irish people.
Ireland has lost so much of its young talent to migration. Ireland like so many countries has lost so much energy and vitality to homophobia too. As we have seen young Irish citizens making their way back home to vote for a better world for those who live there, we've seen something selfless, compassionate and hugely inspiring.
I hope that as they've turned up to vote this week they've received céad míle fáilte – a hundred thousand welcomes on their return.
A hundred thousand alleluias are being sung for Ireland by everyone who wants a world where everyone is equal.
Go Ireland. Go into the future holding your heads high.
Ireland said Yes!