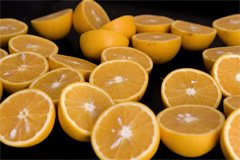 The Love for Three Oranges is the strangest of works. Surreal in fact.
So what could be more natural than a staging which took is visual reference points from surreal and pop art. Dali, Magritte, Duchamp and Warhol were all referenced in this wittily directed production. Indeed, it was a very visual production in which the war between Fata Morgana and Tchelio was expressed by a mad painting competition. Dollops of Pollockesque paint were flung around with crazy abandon, hitting the set full on through the medium of video projection. Later in the production, the blasts of confetti showed for the strength of the wind and showered down and across the stage. Beauty caught in the limelight.
The Love for Three Oranges raises the question of whether we can affect our passage through the world through being able to adopt an outlook based on good humour rather than bad humour. Right and wrong get sublimated into a quest for happiness. The king's son has terminal hypochondria. Nothing will save him except laughter, yet nothing that is put on for his entertainment gives him pleasure.
In the end, he is healed, perhaps rather disturbingly, through witnessing the suffering of another and then by being cursed with a desire to find Three Oranges. His quest is successful in the end. True love emerges out of one of the oranges, but not until a great deal of struggle has been entered into.
There was some lovely singing on stage, but in the end, it was the sheer energy and vitality of the chorus and orchestra which made this an evening to remember. The processions of the King's Court were particularly memorable; every body on the stage completely engaged in the action.
A great night out. Last performace on Saturday night at the Festival Theatre in Edinburgh. Highly recommended.
Rating: