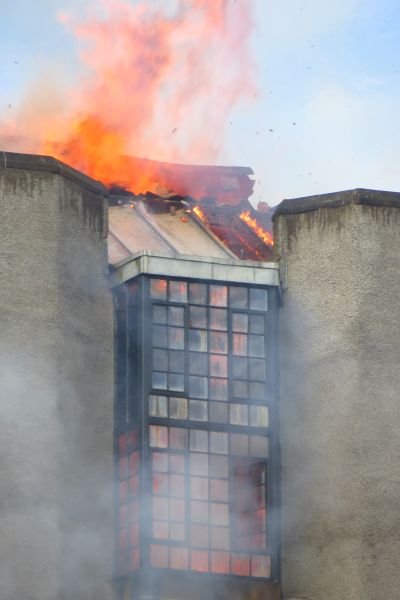 As I sit down to write this, my clothes and hair smell of smoke. I've just witnessed a profound tragedy – the fire at Glasgow School of Art's Mackintosh building.
There's huge sadness in the city. I saw people openly weeping in the streets. This was more than just a building. Iconic in terms of the world's built heritage, the Mack was also part of this city's heart and soul.
I became aware that something was happening when I looked out of my living room window at 1 pm and saw a plume of smoke rising above Garnethill. I picked up my camera and headed out and saw the worst of the blaze and so there are some pictures of what I saw below.
Glasgow's School of Art is more than a building. It is a complex institution in which beauty, hope and challenge are forever interwoven. The Mack was indeed a precious icon but it was a working building which produces the art of today and of tomorrow. As I stood with students mourning losses today, there was already talk of what could be saved; what could be rebuilt. None of us looking on know what to make of what we have seen yet everyone seemed to want to talk of what would yet live, even as the smoke of what was burning was billowing around us.
For firefighters, emergency planners and police we give thanks. For students, alumni, administrators and staff we pray for peace. For bystanders, witnesses and for the whole of this creative, vibrant city, Lord we pray. Amen.
There will be prayers for all involved on Sunday in St Mary's Cathedral, and no doubt across the city.